SoulCollage® is an expressive arts practice done individually or in community. Founded by Seena B. Frost, the method develops creativity and intuition, encourages self-discovery, and provides personal guidance.

SoulCollage® meets you wherever you are on this journey called life. You don't have to be an artist to make SoulCollage® cards. Anyone can create and enjoy this powerful practice.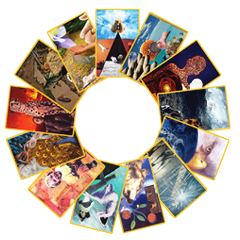 Beginnings
Founder Seena B. Frost, M.A., M.Div. (1932-2016) developed her ideas for creating collaged cards and consulting them for self-discovery in her psychotherapy groups in the late 1980s. Her experiences revealed the transformational possibilities of the method and SoulCollage® was born.
SoulCollage® Evolving (2010), a revised, expanded edition of Seena's first book, was published and SoulCollage® Facilitator Training programs were held. The community took root and blossomed.
A Worldwide Phenomenon
We are now a global community with thousands of trained SoulCollage® Facilitators sharing the process in 50 countries. SoulCollage® continues to grow, supported by books, audio recordings, online classes, an iOS App, Facilitator Trainings, newsletters, blogs, social media, and card making products.
Support for a Shifting Paradigm
Kylea Taylor and Jim Schofield joined with Seena to create a new paradigm organization. Kylea and Jim continue to provide vision and guidance, incorporating the experience and wise counsel of SoulCollage® Trainers, SoulCollage® Facilitators, SoulCollagers, and contractors. Collectively, the community created the organization's tagline to express and support the empowering intent of SoulCollage®: Discover your wisdom. Change your world.™
SoulCollage Inc. keeps evolving to meet new needs of growth and diversity as Facilitators take the method into new populations, new countries, and apply it in new contexts. We highly value cooperation, community, inclusivity, integrity, diversity, generosity, and humor. We pay attention to weaving these new paradigm values into our methods and our goals.
Discover your wisdom. Change your world.™
Like Seena's book title SoulCollage® Evolving, we who are attracted to SoulCollage® are evolving. We're creative, self-reflective, and eager to discover and balance the many parts of ourselves. We each want to be able to be the best version of ourselves we can be and contribute our gifts to others.
We are challenged, we struggle, but we always return to our basic willingness to look at what is so, to listen and to change. From that ever-evolving, empowered place of wholeness, we cannot help but contribute to and affect our worlds—our friends and families, our communities, and our fields of interest.
Our Mission
SoulCollage Inc. trains and supports a global network of SoulCollage® Facilitators to create nourishing, inclusive, cooperative, and creative communities, where anyone can discover their wisdom, answer their life's questions, and change their world using the life-changing method of collaging, consulting, and sharing their own SoulCollage® cards.
---
SoulCollage® is an easy, enjoyable, intuitive collage process for self-discovery and community. People make their own decks of collaged cards for their personal use from found images. The…
We at SoulCollage® stand together as fierce advocates for all Black lives. We are haunted by the deliberate and heinous murder of George Floyd at the hands of white police officers. We are outraged and saddened for those who have been…
An article excerpted from Seena B. Frost's SoulCollage® & Paradigm Shift audio. She wrote and spoke these words in 2011 and they are true today. It is more obvious almost a decade later that systems are changing; our new paradigm values…