Seena Frost had an idea…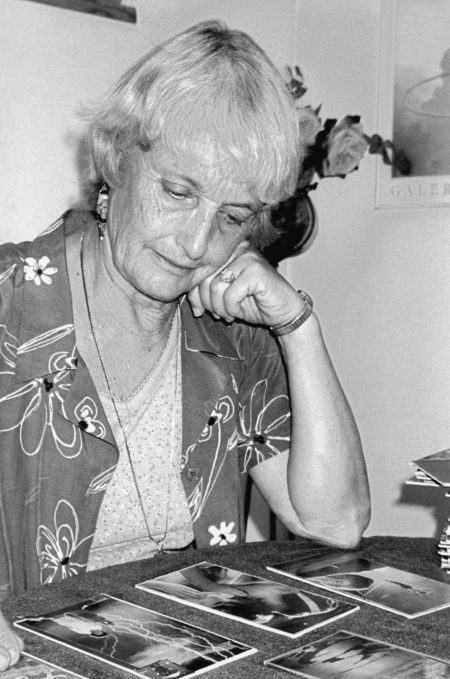 Beginnings of the SoulCollage® Method
Seeds for the flowering of SoulCollage® were sown in Seena Frost's final project for a three-year "Human Capacities" program led by Jean Houston from 1987 to 1989. As she worked with therapy clients and workshop participants, Seena developed the structures of the four suits, the personal, collaged cards, and the style of doing intuitive readings. The work of C.J. Jung, James Hillman, Roberto Assagioli, and others formed the psychological and spiritual underpinnings. Learn about Seena Frost.
Naming "SoulCollage"
Originally, it was called the "Neter Card process." Neters were, in ancient Egyptian lore, the gods and goddesses that came forth from the One Neter, or Source, to help or challenge humans. The word "Neter" continues to be used in SoulCollage® to indicate each of the many guides, allies, and challengers depicted in the images on our SoulCollage® cards.
Jim Schofield, Vice-President of SoulCollage Inc., suggested the name "SoulCollage" as a replacement for the "Neter Card process," because it was more descriptive and easier to remember. This new name received the stamp of approval from Seena's long-time group members. The name reminds us that all the cards in our SoulCollage® deck together comprise the "collage of our soul."
"SoulCollage®" has become an internationally trademarked and recognized "brand." In our international work, we continue to use this name without translating it.
SoulCollage® Evolving Book
In 2010 a revised and expanded book, SoulCollage® Evolving: An Intuitive Collage Process for Self-Discovery and Community, was published. SoulCollage® Evolving replaced the first book and won two book awards. It was a Silver Medal winner at The Nautilus Book Awards and was a finalist in the Body, Mind, & Spirit category from Foreword Reviews' Book of the Year Awards. SoulCollage® Evolving has been printed in four languages: Dutch, English, German, and Mandarin. It is also available as a full-color e-book in French.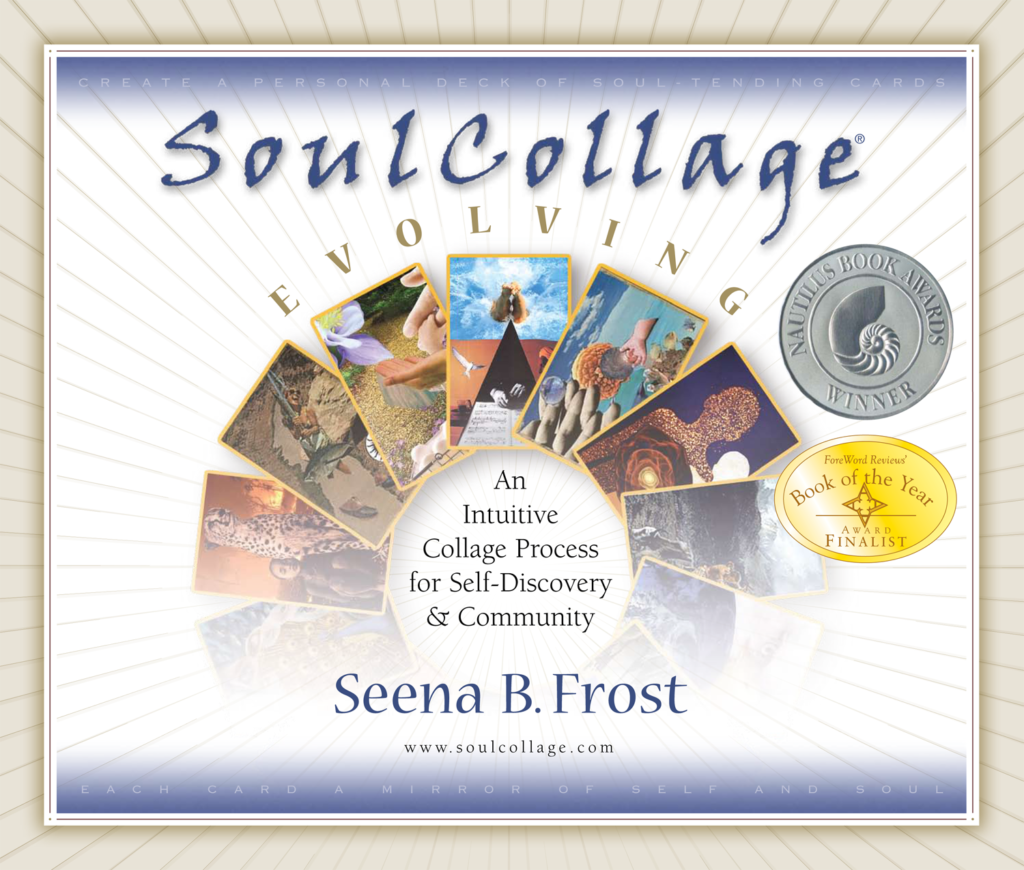 SoulCollage® Facilitator Trainings
Training Facilitators all over the world
After publishing Seena's book and setting up the website, Kylea Taylor and Jim Schofield suggested to Seena that it would be good to start a SoulCollage® Facilitator Training program. Seena agreed, and so Seena and Kylea formed a partnership. Together they designed and offered the first SoulCollage® Facilitator Training in Santa Cruz, California USA in September 2003. Seena taught about the process of SoulCollage®. Kylea taught Facilitators about ethics, some facilitating skills, and entrepreneurial business skills needed as a SoulCollage® Facilitator. Kylea managed the business end of their partnership.
The Trainings continue to be in much demand. They have attracted people from dozens of countries. The people who completed the Training began using SoulCollage® in diverse ways and contexts.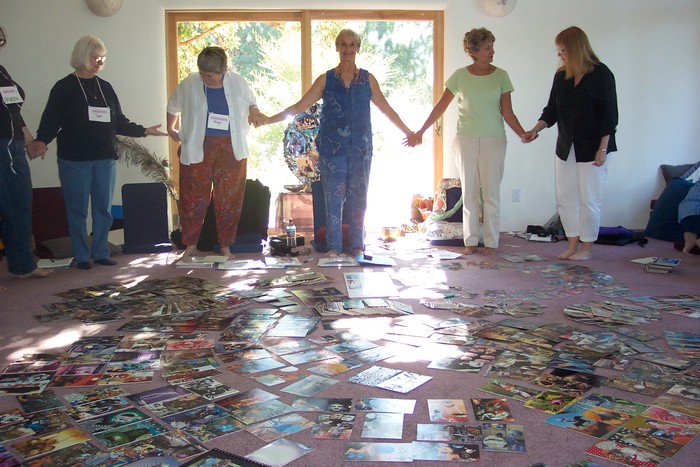 The SoulCollage® method is used in so many ways
Facilitators introduce SoulCollage® to many different ethnic, ages, socio-economic and other groups of people, including: women, men, artists, writers, school children, those recovering from addiction and/or trauma, those enrolled in adult community education, those grieving or dealing with terminal illness, teenagers (both in the context of education or social services). Some present SoulCollage® at professional conferences or use it in business for organizational development. SoulCollage® is offered in individual and group therapy or coaching, in churches or on retreats, and by those who simply bring together a group of friends for art, fun, and sharing.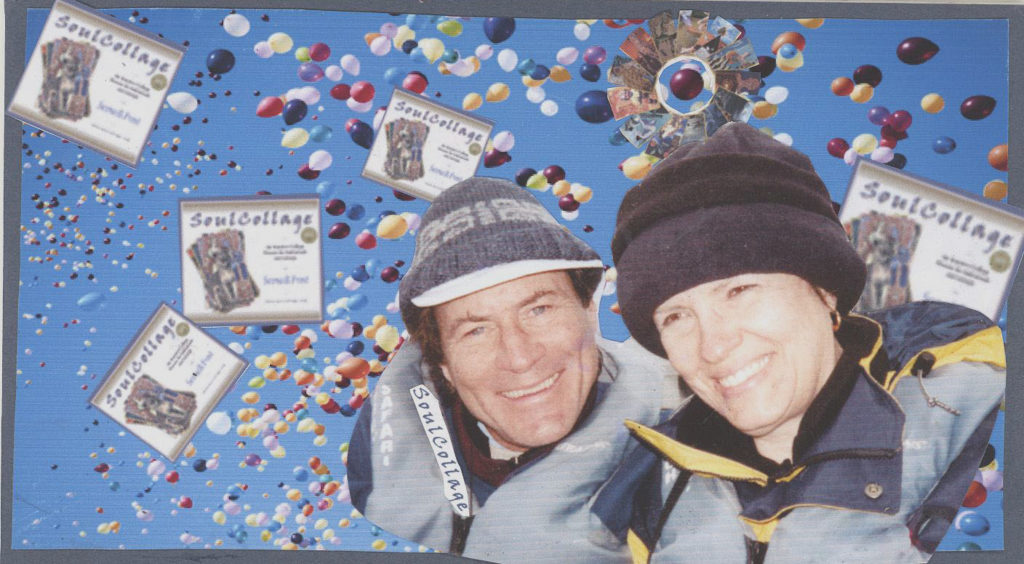 SoulCollage® Trainers
Who trains SoulCollage® Facilitators?
In 2007, Seena and Kylea began the invitational SoulCollage® Trainer Program, asking several experienced SoulCollage® Facilitators to become SoulCollage® Trainers in this entrepreneurial, cooperative venture of preparing new SoulCollage® Facilitators and welcoming them into the Facilitator Community. We are especially pleased to have Trainers in a number of geographical locations. Kylea continued assisting Seena at the California Trainings until Mariabruna Sirabella took over that role in 2010. When Seena retired from Training, she gave Mariabruna her handmade replica of Indra's Net. Mariabruna became not only a Trainer, but a mentor of new Trainers.
Although each Trainer manages their own business, the Trainers work together closely and also provide counsel to Kylea and Jim regarding matters of the SoulCollage® Facilitator Training and community.
The SoulCollage® Organization
A cooperative association of entrepreneurs
Since the Trainings with Seena and Kylea were were so successful, with many enthusiastic people wanting to take this Training, Kylea Taylor and Jim Schofield continued revising and expanding the soulcollage.com website they had built. They anticipated there was potential to build a new paradigm community of SoulCollage® Facilitators and SoulCollagers who wanted to cooperate and share with each other and reach out to others about the fun, self-discovery, and creative opportunities in doing SoulCollage®.
Investing in SoulCollage®
In 2009 Seena Frost (then 77) was in a phase of life where she couldn't afford to invest income from the Trainings to pay for needed organizational growth: website, trademark registration, and other expenses which were growing as SoulCollage® spread. Seena had never been interested in the business end of SoulCollage®, but she loved her Founder role, inspiring Facilitators as a teacher, writer, and being a mentor to the growing community who so loved her process.
Nonetheless, investment of money and time in the business was needed if SoulCollage® were to thrive. In 2009, Jim and Kylea proposed a solution and Seena happily agreed.
Jim and Kylea both felt called to apply their experience to the task of making SoulCollage® available worldwide. They each invested in SoulCollage® with money they had received after their parents died and set up the corporation, SoulCollage Inc.
SoulCollage Inc. provided Seena with a stipend during her lifetime and organized her California Trainings. This arrangement allowed SoulCollage® to grow and helped Seena live out her life comfortably, with her sole responsibility being to provide inspiration to the growing community.
Kylea and Jim decided early that SoulCollage® would do best as a community of entrepreneurs, as they knew business ownership was empowering. Alia Moore became the first contracted Virtual Assistant. Subsequent SoulCollage® Virtual Assistants were also entrepreneurial contractors. All SoulCollage® Trainers are entrepreneurs. Facilitators, for the most part, also run their own businesses which offer SoulCollage® programs.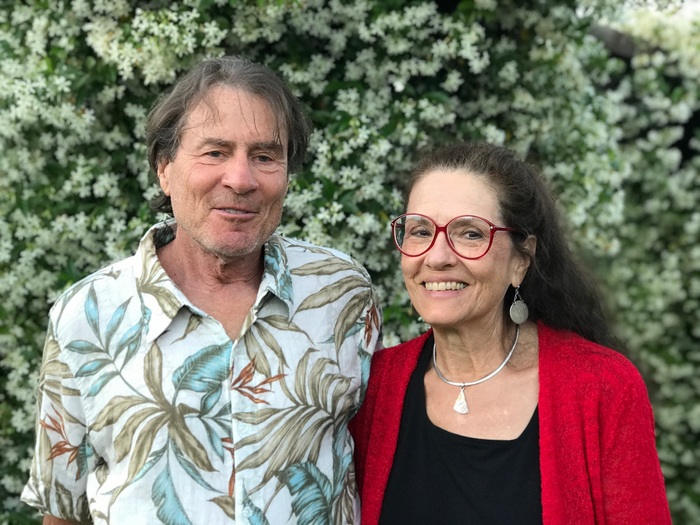 Developing and supporting the SoulCollage® community
Jim and Kylea developed a website enabling Facilitators to advertise their workshops and set up their own "webpage profile" on the site. They set up a SoulCollage® Facilitators Circle, a public and a Facilitator newsletter, and a SoulCollage® social media presence. They arranged Regional Groups for SoulCollage® Facilitators to support each other professionally and to strengthen their own personal practice with SoulCollage®. They provided mentoring and peer supervision groups for SoulCollage® Trainers and involved Trainers in business decisions in quarterly meetings.
Mariabruna Sirabella, who studied for decades with Seena, has been very influential in the global expansion of SoulCollage®, the identification and mentoring of Trainer candidates around the world, and the translation of Seena's publications and other materials into multiple languages.
So many Facilitators help SoulCollage® evolve
All this was possible only with the help and enthusiasm of many Facilitators and Trainers. It is impossible here to name everyone. Every Annual Report to SoulCollage® Facilitators now lists the names of dozens and dozens of Facilitators who are honored for their important contributions. These are people who are paid Virtual Assistants or who have volunteered their time to write books and articles, edit, translate, produce conferences, manage social media, support Trainings with registration and materials, act as Regional SoulCollage® Facilitator Group Coordinators for local groups, and to post suggestions and tips to other Facilitators. Our community so appreciates everyone's cooperation and enthusiasm as we help each other bring SoulCollage® to ever more people throughout the world who can make use of it for individual and community development.