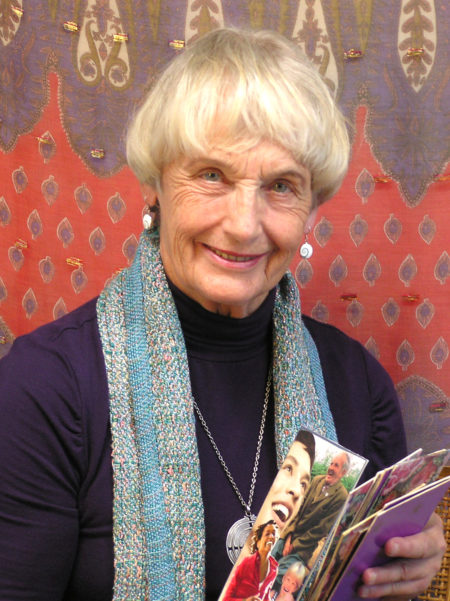 Seena Frost died at age 83 on January 13, 2016. She is loved and missed by the whole SoulCollage® community which is dedicated to passing on her global legacy of SoulCollage®, a simple, elegant, and versatile process leading to enhanced creativity, community, and self-discovery.
The Worldwide SoulCollage Community Bids Farewell to its Founder
This SoulCollage® Memorial for SoulCollage® Founder Seena B. Frost was held online on what would have been her 84th birthday on February 15, 2016 (a month after her death.) The SoulCollage® worldwide community of SoulCollage® Trainers, trained SoulCollage® Facilitators, and other committed practitioners of SoulCollage® logged in from all corners of the planet to hear and see the stories, poems, photos, and videos contributed by 16 presenters honoring Seena's extraordinary contribution.
This memorial event (Part I and Part II) provides a view of Seena's life and a look into the ongoing, amazing, new paradigm, global community and organization that Seena's work inspired.
Part 1
Part I of Seena's Memorial on YouTube
A 3-minute Memorial Video (Sue Gelber)
Introduction to the Memorial and our technology (Kat Kirby and Karen Mann)
A short history of how Seena developed SoulCollage®, the partnership to get SoulCollage® out into the world, and how the community grew. Excerpts from Seena's personal journal written in 1989-91 (Kylea Taylor and Jim Schofield, SoulCollage Inc.)
Stories of personal and professional relationship (Audrey Chowdhury)
Stories of Seena's first SoulCollage® groups. Jeri and Seena recite together Seena's poem, "The Mystic Speaks of Love" (Jeri Bodemar)
Stories from Mariabruna's two-decades of collegial and personal relationship with Seena. Mariabruna reads her own poem for Seena and the poem that Seena wanted read at her memorial. (Mariabruna Sirabella)
Seena speaking about the paradigm shift. A hilarious video of Seena at the 2013 SoulCollage® Facilitators' Conference when she made an entrance as her clown persona Ms. Anne Thrope. (Sue Gelber)
Part 2
Part 2 of Seena's Memorial on YouTube
Appreciation for finding a life's work. (Katherine L. Ziegler)
Seena's love of animals and a poem written for Seena, The Visit. (Fran Cherlow)
How Seena lived with SoulCollage® as a personal daily practice. (Miriam Goldberg)
Seena's love for the human form. Seena's humor. Learning to love the Shadow. More in a video of Seena's clown persona, Ms. Anne Thrope. (Barb Horn)
The international flavor of SoulCollage®, how it brings peace and connection between people of all countries. Poem read in French to Seena. (Andrea Thüler)
Seena developed a new extraordinary process to help people make connections to parts of themselves and to others. (Linda Woolfson)
Seena's emphasis on community. (Lucy Schaaphok)
Contributions to Seena's memory from groups meeting around the world after her death.
How I came to the first Training in 2003, what I learned, and why I volunteered. (Michele Audet)
My love for and work on behalf of the SoulCollage® community and organization. (Marilyn McDonald)
Seena's rich family and community life with an introduction to the closing video. (Kylea Taylor and Jim Schofield)
Wonderful 7-minute video of Seena's life in photos (prepared by the Frost family) accompanied by the song sung by Sara Hickman, "We Are Each Other's Angels." (song used with permission)
Closing (Kat Kirby)